This week I have a brief and unique episode to share with you all to say Thank You! Within this episode, you will find the details to a special giveaway of my book LIFE WILL GET BETTER for the first 50 listeners who complete their entries. For detailed instructions visit:
CLICK HERE TO ENTER THE GIVEAWAY NOW!
If you have questions about this special giveaway, please reach out to my team at support@drbeurkens.com. Thank you so much for being a dedicated listener to the show! I look forward to continuing to engage with you all in the many more episodes to come on The Better Behavior Show!
Need help with improving your child's behavior naturally?
My book

Life Will Get Better

is available for purchase,

click here

to learn more.

Interested in becoming a patient? Contact us here.
Episode Highlights
Book GIVEAWAY Special
THANK YOU for being a dedicated listener to The Better Behavior Show!

Click on the link below for detailed instructions on how to enter the giveaway to receive a FREE copy of my book, LIFE WILL GET BETTER.

There are only 50 COPIES available to the first 50 listeners! Visit the link below now!
Episode Timestamps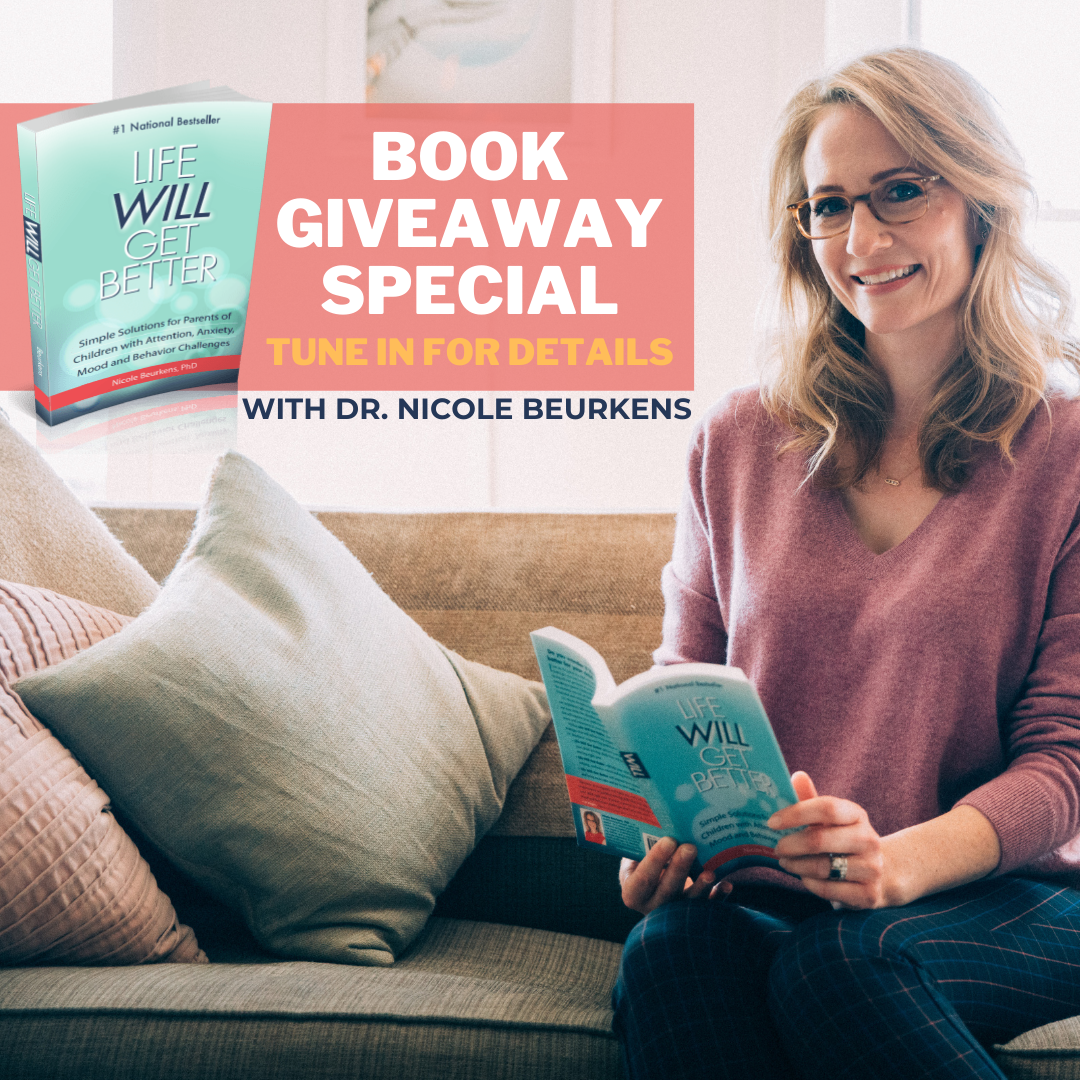 Episode Intro … 00:00:30
Book GIVEAWAY Details … 00:07:00
Episode Wrap Up … 00:10:30
Episode Transcript
Dr. Nicole Beurkens: 
Hi everyone, welcome to the show, I am Dr. Nicole, and today, I have a brief and unique episode to share with you. It's just going to be me. This is a 'Thank You' episode of sorts, and also an invitation, an opportunity for you to get a cool, free gift for being a listener. It's back to school time, this has been a year like none other. We've all had to pivot frequently in our lives, professionally, personally, with our kids — we kind of all feel like we're flying by the seat of our pants, at least I do, a lot of the time. Whether we're parents, school professionals, therapists, physicians — our kids, all of us are trying to figure out how to make things work in what's become this new sort of normal or abnormal situation that we're living in. Throughout this year, particularly the last six months, I've gotten so many messages from listeners of the show thanking me and my team for putting the weekly podcast together, letting us know how valuable the information is.
I think now more than ever, people are looking for information and support — and we love getting those messages and those emails. It's really our goal to be here as a support that you can count on each and every week. Since the pandemic started, more people seem to have time to listen, have found the information — maybe it's just as a result of being on the internet more than ever before, but it's really great to hear that people are tuning in, they're downloading, some of you have left reviews for us on iTunes and other platforms, which we really appreciate because the reviews help the show in a number of ways: First, when there are positive reviews, it helps new listeners who are considering downloading the show, subscribing to the show to find us and to give them the confidence to try it out. We all look at reviews when we are making purchases or choosing a book to read or a podcast to listen to and it helps to know that other people like us have found it helpful. So the reviews are really helpful for that. But the reviews also give us the opportunities to have more high-level guests who are wondering about the show, wondering whether they should say 'Yes' to doing an interview. When they see all the positive reviews, it gives them the confidence to say, "Yes, this is a show that I want to do an interview for." But the third way that it really helps is with our rankings in iTunes. The categories, the algorithms of iTunes, just like everything on the internet seem to change constantly.
What we know is that podcasts that end up in around the Top-50 for their category are definitely found more easily when people search for shows. You may not be listening to the show on iTunes. Maybe you listen to it on other platforms: Spotify, Stitcher, several others. But we tend to focus on iTunes because that's where we're mostly discovered, and that's where a lot of parents are searching for a podcast. So I know that several of you have already left us a review, I appreciate that greatly. Thank you so much! If you have not left a review yet for the show, I want to give you an opportunity to do that and give you a gift and kind of sweeten the deal for you for doing that. If you go to iTunes and leave the show a 5-star review, say something positive about the show, what you've gotten out of it, I want to send you a free copy of my book 'Life Will Get Better: Simple Solutions for Parents of Children With Attention, Anxiety, Mood and Behavior Challenges'. I will mail that to you. The books are going to be available on a first-come, first-serve basis. I am going to explain the details of how to do that in a minute. But first, I want to celebrate with you that we're getting close to 100 episodes on the two-year mark of producing this show. When I started out doing the podcast, I really wasn't even too sure what a podcast was. I didn't listen to a lot of podcasts, I wasn't sure how many of you would be out there willing to listen, but what I discovered is, so many parents and professionals listen to podcasts, and it has become one of my favorite things that I get to do each week. Conducting these interviews and putting the episodes together. I want to acknowledge that I have an amazing team that helps with the production of this show — it's definitely a labor of love. There are so many working parts that go into it and I am so grateful for my team that puts this together, and all of us are grateful for the positive feedback we've received over the last two years. You are what keeps us going and aiming to have even better guests and continuing to produce a high-quality show for you every week. 
I want to give you a little preview of what you can expect in the coming weeks with some upcoming episodes. We've got some great, great interviews coming your way on topics related to sibling needs, when a child has special needs, the needs that their siblings have, and how to address those. We've got an episode on avoiding burnout for parents, which the research shows is more of a concern than ever before right now, during the pandemic! Got an awesome interview with one of the gurus of digestive health issues for kids and for parents and we're going to be talking about parenting really young children with behavior challenges and how to manage that, a really cool episode about entrepreneurship as a great option for parents and kids with disabilities, particularly as they get older. We've got content coming on young adult issues and how to prepare our kids for adulthood and being as independent as possible, and lots of other cool things coming your way! So I just wanted to give you a preview of that so you can be looking forward to those episodes coming up. As always, we'll continue to produce those every single week.
You can expect to have that new episode coming your way, and that reminds me. If you are not a subscriber to the podcast yet, please go into the podcast player that you use, whether it's iTunes or Spotify or something else, and subscribe to the podcast. What that does, is it makes sure that the podcast automatically comes to your podcast player, your app. Every week when it's released, it shows up on top of that and you know that you won't miss an episode. You don't have to go searching for it. Super convenient. So, please subscribe if you haven't already. 
Okay. So let me tell you how this Back to School 2020 Better Behavior Show Book Giveaway is going to work. So as I said, I've been wanting to give all of you as listeners a gift for a while, and this back to school time just seems like a good opportunity for it. I know that those of you who have my Life Will Get Better book have found it really helpful for your kids, we've gotten tons of great reviews on that book. The information is just as relevant today as it was when it was first published. So what I decided to do is send free copies of the book to listeners as a thank you for being part of the podcast community and for being so dedicated to the show. So the giveaway is for 50 books. And those are going to go within a few days, and that's all that we have from the publisher, is 50 books. We're doing this because we know you love the show, but we also want to give you just a thank you, and also some motivation to get online and leave a review, because I know it's going to take you a few minutes to do it and I value your time, and really value you being willing to do that, so I want to send you a book as a thank you. So we've got 50 books ready to ship out, the reviews are going to help us with exposure, with credibility, and with ranking, so I really appreciate you taking the time to do this. It is not complicated, but there are a few steps. I'm not going to get into the details here on the show, because we've created a very simple webpage on our website where you can go to get all the details. So you're going to go to drbeurkens.com/giveaway. 
And you'll be able to read all the details. That page is going to take you through, step-by-step, the few things that you need to do here. Because what you're going to do is go to Apple Podcasts and we'll have the link right there on that giveaway page. You're going to leave a 5-star review and say something positive about the show, how it has benefited you, why you think people might find it helpful — whatever you want to say. And then you'll come back to the giveaway page and fill out the form that includes your information, your handle on Facebook or other social media sites, and that way, my team can go through and connect all of the reviews that are left on Apple Podcasts page to the usernames and online forms, so we know exactly who to send the books to. Obviously, you can understand why we need to sync those up and make sure that we're getting books to the right people. So read the instructions, go to that link, drbeurkens.com/giveaway, and if you have left a review in the past, you can still enter. I still want to give a big thank you for the time that you took to send that review, so you can still enter with the review that you left previously, if you are a new listener or a new subscriber who leaves the review, you will get one as well, but remember that we only have 50 to give away. We're going to keep it limited edition here.
So the book is a great resource whether you're a parent of a professional, you'll find great usable information, and I want to give you a big shoutout and a big thank you for following the show and for leaving us a review. A little note that I should mention: We can only mail books within the United States at this point. But if you live outside the United States, we really appreciate you leaving the review, we'll be very grateful, and we'll be happy to send you the eBook version of the book. So you won't get an actual book in the mail, but we will happily send you our eBook version of that, so you'll have a book as well. We'll also share the reviews online, we'll make sure to tag you in upcoming promotions. I think that's it. Those are the details you need right now. So go to drbeurkens.com/giveaway and I look forward to seeing your review come in so that we can get a book out to you.
Thank you so much for being a dedicated listener to the show. Thank you for helping out by leaving a review. Thank you for subscribing to and following the show and making it everything that I had hoped it would be and more. I will be back next week with a fantastic new interview. In the meantime, if you have questions about this special giveaway, you can reach out to my team at support@drbeurkens.com and they'll answer your questions and take care of whatever you may need. So thank you again for being here, thank you for being listeners. I appreciate you so much. Have a wonderful rest of your week and I'll see you on the next episode!